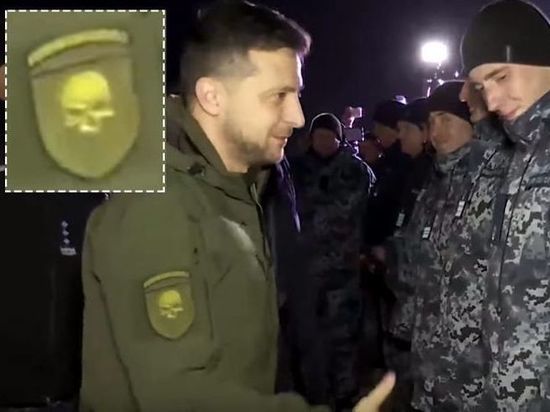 Photo: Facebook.com/romandonik.
Ukrainian volunteer Roman Donik has published on his page in Facebook photo from the meeting of President Vladimir Zelensky with the sailors in a military Harbor in Ochakovo. On the sleeve of clothing Zelensky Chevron adorned with a skull. It turned out that this patch 72nd brigade APU, which the soldiers gave it to the President in the Luhansk region.
Donica thinks that Zelensky does the same thing as Petro Poroshenko, who for the sake of PR at the time, decided to show off with the tactical holster. Then the Ukrainian President strongly criticized.
«Poroshenko made the mistakes and didn't play a «tough warrior». What makes Zelensky, funnier and much sadder,» wrote Donika.
The number of subscribers to the page donika decided to humor to comment on this photo. One of them wrote that Zelensky appeared with this Chevron to «excited Skobeeva». Another remembered the claims of Ukraine to complete the return of Russian ships and suggested that Chevron Zelensky should be no skull and toilet.