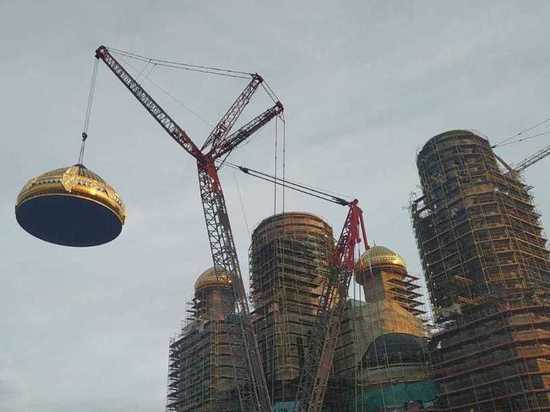 Unique engineering operation was carried out by the builders of the Main temple of the Armed forces in the Park «Patriot». They established the Central dome weighing 80 tons. The frame of the dome is made of high-alloy steel. The procedure itself is unique, because previously no one has ever lifted from the earth dome or hemispherical objects of this size. Traditionally, the Assembly of the dome was carried out on top of the Church in parts.
Raised construction with a powerful 720-ton crane reinforced counterweight to 1250 tons. He lifted the load to a height of 62 meters 60 cm All the elements of the future temple, say the builders, is riddled with symbolism. The diameter of the Central arch — 1945 centimeters. The number symbolizes victorious end of the great Patriotic war. Made in the Orthodox tradition, the dome resembles a helmet of the ancient warrior.
Later on the top of the dome will be installed Orthodox cross. Built on the donations of the temple dedicated to the Victory in the great Patriotic war. The opening of the Resurrection Cathedral is scheduled on may 9, 2020, the 75th anniversary of the Victory.