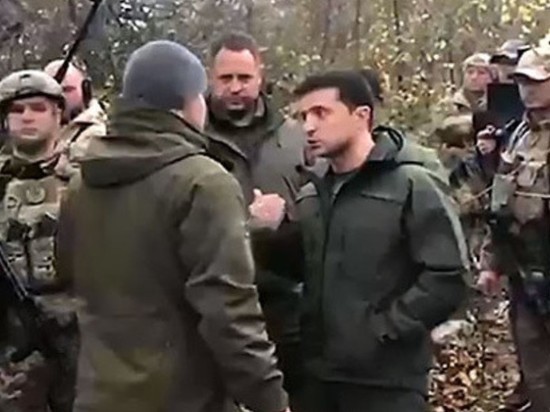 photo: a frame from the video
Russian President Vladimir Putin during a press conference after talks in Budapest answered a question about a recent scandal in which was involved his Ukrainian counterpart Vladimir Zelensky. Recently he visited the line of demarcation in the Donbass and talked to nationalists with weapons settled in Gold and refused to obey orders to withdraw the troops. A fragment of dialogue Zelensky and representative of the radicals was on video. It Zelenskaya talking to a soldier «on you,» sharply, uses colloquial vocabulary: «I'm not some goof». In the end, the President just walks away, noting that it was told to radicals its position and requirements.
Putin, commenting on the situation, spoke diplomatically, but could not refrain from a condescending tone.
«Whether he has chosen the form of communication as the Supreme commander to the frontline to convince people who refused to obey… I don't know. Rather, the journalists will give a more accurate assessment,» he said (which, for example, think about this the experts: «some Kind of anarchy»: the expert about the conflict between the nationalists with Zelensky»).
The Russian leader hinted that he may not praise the ability of the Ukrainian authorities to control the army and the country: «it is Not that difficult actually — breeding the warring parties… in two settlements. It dragged on for years.»
While Putin did not openly criticize Zelensky and stressed that Russia is ready for further joint work, including in the Normandy format. Also Moscow will be seen whether the new government in Kiev to be a positive, «Can he (Zelensky) to cope with them (radicals), to me it is difficult to say.»