Stripped and drove into the paint
Stripped and drove into the paint
Steve Hanks — the most famous American artist working in watercolor technique. Works of this master are very realistic. The artist was born in a military family in San Diego in 1949. As a child, Steve spent a lot of time on the ocean coast.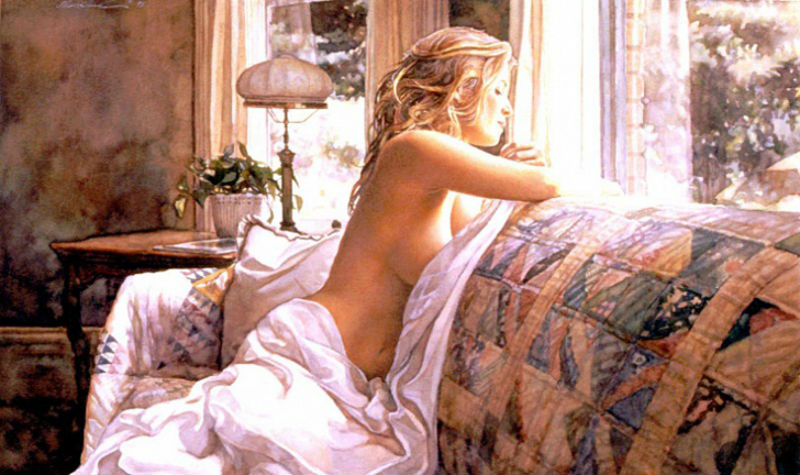 «The ocean has always made a strong impression on me. To be alone with the water was always good for the soul: no matter whether I was sailing or just touching the water surface — I always felt its mysterious power,» recalls Steve. The mere description of ocean water that person says about the thin Hanks perception of reality. How he noticed and absorbed the details that others were unavailable, made him one of the outstanding artists of our time.
Steve graduated with honors from the Academy of art in San Francisco and in 1976 he got a job as a designer in the Campfire Girl's camp. The artist has long experimented with different styles, tried to write with oil paints, drawing with pencil and acrylic. Over time, he managed to develop his own style, which he calls «emotional realism.»
First, Hanks prefers to work with oil paints and with their help achieved precision in their works. A few years later, the artist found signs of an Allergy to the oil and stopped using this material. Gradually, Steve switched to watercolour and has brought the technique of drawing these colors to perfection.
«Sunlight is one of my favorite «models». I admire the way he penetrates through objects like fills the room with light. Often it turns out that my work is talking about the sun more than anything else,» admits the artist.
«I try to take responsibility for what you create and to paint, which are more positive. I hope that my works bring the world of comfort, pleasure and the opportunity to see the lives of others».