Chiang Mai is in Northern Thailand. Plain, situated 316 meters above sea level, striking mountain views and a picturesque rural landscape. In terms of population (131 thousand), the city occupies the 5th place in the country.
The national composition of Mai varied largely due to the cosmopolitanism of local beliefs. The population is an amazing synthesis of expatriates and indigenous people. Therefore, «Rose of the North» moving even the residents of Bangkok.
Founded:
13th century
Size:
40.216 km
2
Population:
131 091 people (2017)
Currency:
Thai baht
Language:
Thai
Of.website:
http://www.cmcity.go.th/
Current time in Chiang Mai:
15:59
(UTC +7)
Chiang Mai founded in 1296 In ancient times it was the capital of the Lanna Kingdom. The city is unique and distinctive in its history and culture. Located in the Himalayan foothills is 700 kilometers South of Bangkok lies. At the beginning of the last century to get to the city was possible only by river or elephant. The path was very difficult. That is why the «rose of the North» has long retained its unique charm and flavor.
How to get
Planes in Chiang Mai
Air Harbor Mai accepts both international and domestic flights. The most popular and busiest route is from Bangkok. Here works the world-famous airline «Thai Airways». Its aircraft operate around the clock, almost every hour and have additional flights in the peak holiday season. From Phuket, Sukhothai and Chiang Rai to Chiang Mai are made direct flights of other airlines. The international airport receives flights from Malaysia, Hong Kong, China, Laos, Singapore, South Korea and Taiwan.
Air Harbor located at a distance of 3 km from the centre of Chiang Mai. To do this journey by road takes only 10-15 minutes. A licensed taxi will cost 120 baht per car for 5 people. This amount will be sufficient to travel anywhere in the city. You can also take a taxi with the meter. In this case, the fee will start from 40 baht. Additionally, you will be charged 50 baht for the option «Meter Taxi counter».
Cars arrive at North terminal. After passing through customs control and baggage claim, you will need to go to the reception hall and turn left. There will be expected a taxi.
Tourists, who prefer travelling by bus, will be able to use route # 4. He goes to the center of Chiang Mai, spending on the road in just 15 minutes. Alternatively, you can rent a tuk-tuk or songtaew. The use of such exotics will cost 50-60 baht per passenger. However, most hotels and upmarket guesthouses offer tourists a Shuttle service that is included in the price or even free.
Buses to Chiang Mai
From the Northern terminal bus station in Bangkok (Mochit) daily many buses leave in different directions. Here tourists are offered numerous flights. You can always choose a suitable basis of the cost of the ticket, length of travel and level of comfort.
Budget-friendly travel — public buses. Their main disadvantages lie in the low comfort, frequent stops and the condition of the vehicles. This trip will cost only 200 baht, but will take at least 12 hours.
«Express» buses are designed for 24-32 passenger. They go non-stop and meet the 1st class comfort. It is a transport company «Nokhonchai Air». The salon has large comfortable seats, each passenger provided with food. Such conditions make it feel comfortable even for a long trip. The route takes 9 hours and costs 550 baht.
Especially attentive should be in relation to the notorious «VIP»buses. They actively promote the distributors of tickets from Khao San road. By purchasing an inexpensive trip, you run the risk of not in a comfortable car, and in a crowded third-class bus «extra-economy» class.
The final stop — bus station «Arcade». At the exit of the building will expect the public songtao. Please note, on which sit local residents. You can ask the driver whether he rides to where you need. And definitely negotiate the price in advance, if songtao empty.
If you share the transport with other passengers, then drive to Thapae gate should cost no more than 20 baht. Perhaps to negotiate the right price just will not work. Then you have to wait for another driver. It should be remembered that almost all songtao pass Warorot market, located in the center. From there, very close to Thapae gate, about 1 km. This distance is easy to walk or use transport to another district.
An alternative to songtao tuk-tuk. As soon as you leave the bus, there will be many drivers of this vehicle. They excitedly begin to offer their services «only» 80-100 baht to the desired point of the city. Even show a price list with «fixed rates». Don't settle. The distance to Thapae gate is of the order of 5-6 km. This trip can't cost more than 50 baht. Moving to a remote location — no more than 100 baht.
Sometimes to negotiate with enterprising drivers is extremely difficult. The best option is just to ignore their suggestions. Exit the building the bus station on the opposite street and «vote». Certainly there is a passing tuk-tuk or songtaew.
If you have light Luggage and good physical shape, take a walk from the bus station to the city centre. However, this trip will be rather long. It is better to use transport.
Pricing drivers songtao in 2012 was quite amusing. They demanded from each foreigner for 150 baht per trip. If potential passengers have begun to bargain — threw off to 100 baht. The same tactics made use of tuk-tuk drivers. Therefore, the best option would be a walk to the main street where you can catch a more accessible transport. Songtao — 30 baht per passenger, tuk-tuk for 60 baht. In any case, be prepared to bargain.
Trains in Chiang Mai
Train/railway station «Hua lamphong» leave at a constant daily schedule. To reach Chiang Mai, you will need 12-15 hours. Day schedule going at 8:30 and 14:30. The accommodation is in the carriages II and class III. Ticket price: 218 baht 121 baht, respectively. The seats are comfortable according to the class. After 10 hours of driving, the seats can be inconvenient.
Alternative to a day — night (sleeping) train. They have comfortable shelves and clean linens. The ticket to double compartment in first class will cost you 1400 baht. The second class are in General cars. Each shelf is equipped with a curtain for privacy. The cost of this place is 900 baht. First class compartments are equipped with air conditioning systems. In General cars that are rare.
Daily run 4 sleeping train. First class compartments have only half of the cases. To obtain accurate information from station employees.
The wagons of such trains are kept clean. Floors and bathrooms are regularly wet cleaning. The trains ply sellers who will offer you food and drinks. Do not lose vigilance and be ready to bargain again. Because the sellers always propose high prices. It is best to stock up on food and drink in advance.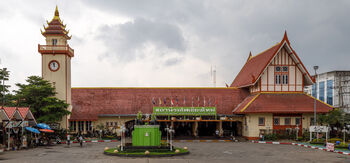 The berths of the second class are made collapsible. They transformirovalsya and removed. Below are 2 pairs of seats facing each other. They are arranged on demand. Berths of the first class also transformirovalsya, turning into a comfortable seat. Remain until, until you need to turn them in bed.
If you are not going to sleep together with the neighbors, go to the restaurant car. There is a large selection of food and drinks at reasonable prices. Sometimes dining cars become a full-fledged night disco for those who can't sleep. Here you will have to wait for the loud music and colored lights.
The train tickets are sold on the next flight, and in advance, for 60 days. They can be purchased at any of the stations of Thailand. However, it is preferable to make a reservation, especially on the «sleeping» trains. Such compositions are popular, and tickets for the desired date may not be.
Major railway stations accept payments with Visa/MasterCard. Such financial transactions are safe and convenient, as the company «SRT» owned by the state. Often foreign travel Agency, providing tours, provides an airport transfer/railway tickets 100 baht per person. Do not forget that the «SRT» shall charge a fee of 90 baht for the transportation of the Bicycle route «Bangkok — Chiang Mai».
Station Chiang Mai is 3 kilometres from the city centre. At the entrance to the terminal waiting tuk-tuks and songtaew. If you do not wish to spend further time in transport, go on foot. You leave the station, cross the station square, turn left onto Charoen Muang road and head right on it. So you can reach the centre of Chiang Mai independently.
Search for tickets
in Chiang Mai
Search for travel companions
on BlaBlaCar
Transfers
in Chiang Mai
Climate and weather in Chiang Mai
Geographical location contributes to the popularity of Chiang Mai as a resort with a mild climate. Here are much cooler than in the South, which is important for guests from the Northern latitudes.
In Chiang Mai, and throughout Thailand, there are 3 main tourist season:
«cool» (November — February);
hot (March — June);
wet (July — October).
Transport
Until 2011, the Mai cruised large comfortable buses with air conditioning. Routes ran along all the main streets. Their flights were stopped. Now replace the buses came pedicabs (Samlah), songtaew and tuk-tuks.

Songtao is the most popular form of public transport in Chiang Mai. It represents a pickup truck with two rows of long benches. «Songtaew» means «two rows». The routes of the vehicles are strictly fixed. Songtao go in certain directions, picking up on the way voting passengers.
To read all the details about this and other alternatives for travelling around the North of Thailand you can in a special article «Transportation in Chiang Mai«.
Chiang Mai Sights
Translated into Russian language the name Chiang Mai means «New city» («Chiang», the city «may» — new Northern Thai dialect). The city centre presents the ancient fortress. From the historic buildings preserved section of the corner walls, entry portals and the elements of the protective moat.
In the fortress outside there are more than 3 dozen churches. The architecture of religious buildings typical of the time of the founding of Chiang Mai. The temples are representatives of the Sri Lankan, Burmese and Thai styles of architecture. The buildings are decorated with decorative carvings, staircases, angels and lions guardian pagodas with filigree decoration and gilt umbrellas. The most popular of the local temples — Wat phrathat DOI Suthep. It offers a magnificent urban panorama.
In Chiang Mai our day — a beautiful modern city. It has grown substantially in all directions, capturing a previously uninhabited area. In the East rose rises to the river Ping. Here is most of the objects of resort business, as well as the famous Night Bazaar, bustling, even after dark.
The night life of Chiang Mai is concentrated on LOI Kroh road. Residents claim you do not understand the city, not having been to DOI Suthep, not tasted Khao Soi and not by visiting Boring. Of course, these words are a tribute to the tourism component of the region. However, the umbrellas Boranga, a bowl of Khao Soi and DOI Suthep — recognized cultural symbols of the ancient city-fortress. On Sundays for pedestrian Ratchadamnoen road is a huge night Bazaar. The street stretches from Thapae gate to famous among tourists Wool Phra Singh.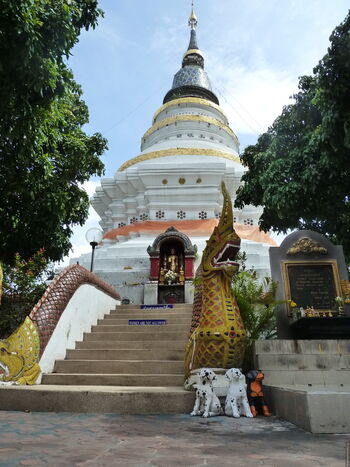 One of the temples of Chiang Mai
The Temples Of Chiang Mai:
Other attractions of Chiang Mai:
Where to go in Chiang Mai
Interesting places in Chiang Mai
Private guides in Chiang Mai
More details on Chiang Mai will help you to see Russian private guides.
The project Experts.Turister.Ru was registered 2 Russian tour guide in Chiang Mai.
Nightlife in Chiang Mai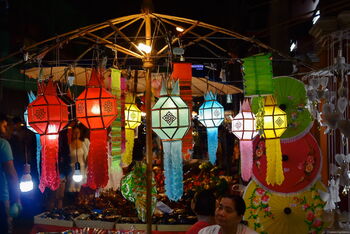 Chiang Mai night — life of Thai North. Of course, to compete with Bangkok for him. But even here, the range of entertainment is so diverse that it will make forget about everything!
We will help you relax and get a sea of emotions. You will learn where in the Chiang Mai night life starts, and there are beautiful girls. With this guide you will only have to leave the daily worries and dive into the world of night lights.
In Chiang Mai there are plenty of discos, clubs and karaoke bars. Everywhere has live music. The place of the main night action is located near Thapae gate on LOI Kroh road and on the East Bank of the river Ping.
However, not all bars for tourists are located on LOI Kroh road. Many of them are located behind the night Bazaar. For Example, «Bar Beer Centre». It has everything that a tourist frankly confused by the wealth of choice! Three dozen different bars, including sports facilities. They can play Billiards or watch the game in real time. Here — «beer bars» with the girls in the style of Pattaya. In the center there are even places where work exclusively transgender (katoey).
On-site leisure centre has a real ring for Muay Thai. Here are free fights. Or for a nominal voluntary fee. Every Thursday you go into the ring by professional boxers. This scene requires a monetary contribution per visitor. Some bars provide guests with a free preview. Happen here and the playful sparring «for fun». This additional fun involves casual viewer of the tourists. Boets tries himself in, and the match ends with universal joy.
On moon Muang road and in the side streets there are sports and «go-go»bars. Here are going in the evenings, expats. In such establishments also have Billiards, music and sports. But do not forget about some of the local features. If you liked a girl, it is unnecessary to try to keep her company. Sometimes it ends up unplanned expenses in the form of additional check at the end of the night.
Young Thais love the area Nimanhemin road. Apparently, due to its proximity to the University of Chiang Mai. The local beer pubs represent a synthesis of restaurants, cafes, live and electronic music. Many of the musicians probably day sitting behind books, and in the evening embark on a creative mission.
Fans more thrills better to go to the East. Bars in this part of the city understand a little English. The fact that among the staff there are the students for whom this language is not an empty phrase. They will understand you. Sometimes even very good.
Roadside bars of Thailand are surrounded by the territory of Nimanhemin road. But you won't find live music. Only the TV broadcasting of sports programs and fairly inexpensive beer — 50-65 baht for a large glass of «Chang» or «Leo». Such places often offer discounts for solid purchase. That is, if you buy 3 bottles, you will pay 109-129 baht for everything. The only downside is the posters about promotions written in Thai. So look at the numbers or refer to service personnel. Employees must tell you about the current offer. The majority of visitors to these bars — Thais. Expats here you are unlikely to see.
Institutions Charoenrat road will appeal to fans of live performance. Here you can listen to jazz, rock, country and Western popular music. This will need to be removed from the town centre, cross the bridge and reach Narawat river coast. You will open the shining lights of the promenade, where are located all restaurants.
An interesting feature of local performers — the principle performances. Musicians play for one hour in each school. Then go to another door. Don't be surprised if you see the same group twice or three times a night, but in different places.
Chiang Mai is popular among gay culture. Proponents of same-sex love often visit this city. Many come here to «retire». The main venues where such community is: «Glass Onion», «Soho Bar & Guesthouse», «Garden Bar & Restaurant» and «Golden Ball». Chiang Mai is great, and the place is enough for everyone. Besides, respect for other features — an important feature of Asian philosophy.
Food in Chiang Mai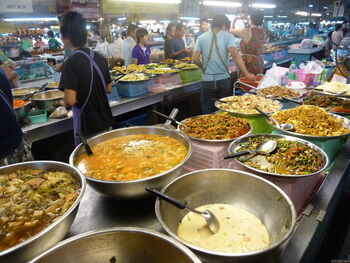 The range of restaurants in Chiang Mai are able to impress the most sophisticated gourmet, second only to Bangkok. Here you can taste traditional dishes of Northern Thailand. For Example, Khao Soi. It is a yellow wheat noodles boiled in a broth of curry. The broth is made of chicken (Gai) or beef (niya). If you don't like neither, you'll be able to order a dish in seafood or vegetarian versions.
Another highlight of the local cuisine — «hang lay». This is performed in the Lanna style pork curry. If you are tired of the ubiquitous noodle and rice, go to international restaurants. Fortunately, Chiang Mai has lots of them. There you will offer and cheap burgers, pies, Italian dishes.
In establishments of Chiang Mai, you'll be able to find dishes from all Nations and continents. Here respect other people's traditions, protecting them as their own. This happens largely due to expatriate.
Chiang Mai Western kitchen with Thai. You will find Australian, British, German, and Italian restaurants. As well as many others. Perhaps «rose» is the only place in Thailand where it is possible such an amazing combination of traditional and foreign cuisine.
Dinner and show Kantok
Arriving in the «Rose of the North», you just have to try dinner and show CANTEK! It's a pastime designed for tourists. Besides, a wonderful way to pass the evening pleasantly.
History dinner kantok began in the mid-20th century. The first such meal was held thanks to Professor K. Nimanhemin. He made dinner for two friends who were preparing to leave Chiang Mai. All in all there were 3 such events. And all in 1953. Because we cannot say that kantok Thai tradition. This is a good «invention» for a story.
«Kantok» — a name obtained by adding two words: «Khan» — a little bowl, «current» — a low table. Literally, it turns out: a dinner of small dishes served on a low table. There are many colorful restaurants serving great Thai cuisine in a beautiful setting.
Connection in Chiang Mai
Wireless Internet access (Wi-Fi) is one of the priority services provided by the majority of hotels, guesthouses, bars and cafes of Chiang Mai. In our day of remote network connectivity can even boast swimming pools. It is either included in the cost of basic services, or may charge a small fee.
You have to have wireless connectivity to the network at any point in a 500-meter radius around the hotel (or other location). You will be able to use the Internet for a nominal amount or even free.
Chiang Mai has a huge number of Internet cafes. The whole city centre is full of such institutions. To find a suitable won't be any problems.
The cost of services at the connection points are different. In some cafes, where the rest of the local children, you will be charged 10 baht per hour. In other places the price can reach 60 baht per half hour (120 baht/hour) and more. Some institutions assign a rate for 15 minutes of use, others 30, still others point out per-minute rate.
The most inexpensive places located on Huay Kaew road near the main entrance to Chiang Mai University. Here you will find not only fast Internet, but the web camera services to video calls and other features. The price will be only 10-15 baht per hour.
Pay attention to the following places:
«Crank Tavern». This cafe is located on Ratchapakinai road, 3/2. You will be offered free access to the Network provided that the purchase of a beverage. Here for you — fast Internet, Skype and exceptionally comfortable environment.
«Buddy Internet». Huay Kaew road, 12. The school is open from 8:00 a.m. to midnight. Phone: +665 340 45 50.
To access the Network from a telephone in Thailand is prevalent GPRS/EDGE technology. This is the most inexpensive and affordable connectivity option for anyone with a local SIM card. TrueMove 3G — 850 MHz provides a complete covering most parts of Chiang Mai.
Emergency numbers in Chiang Mai:
City information: 183/1133
The police (for emergencies): 191
The police (for tourists): 1155 or 053 — 278 559
Fire Department: 053 — 241 777
Emergency: 053 — 218 888
Grimson — simkarty and innovative breakthrough in the world of communication. The uniqueness of Sims lies in its lack of belonging to a particular operator and, consequently, lower the cost of communication: Dimsim working in 197 countries and automatically connects to local operators.
No more need to look for the best roaming or buy a SIM card in each new country, as Dimsim ready for operation immediately after switching Your mobile phone from aviarium usual. In addition to smartphone universal SIM card adapted to tablets and routers.
To monitor and replenish the balance by using free mobile applications both in manual and in automatic mode.
No need to splurge on the service packages and monthly fee, as the money will be debited from the account only for the second conversation and the used megabytes.
Jimsim is a stable Internet access, cheap calls, transparent billing and rates, a little different from the local link cost. All this allows you to chat with friends, share photos, build trails, and learn a lot of useful information about the country without fear to spend all the money on roaming charges.
Safety in Chiang Mai
Thailand safe. The crime rate is much lower than in any European country. So walking around Chiang Mai you can even at night without fear of attack.
The security principles are the same as everywhere else in the world. Avoid little-lit streets, be careful on the periphery. Do not bring valuables. The most common crime — theft bags. The principle is quite simple — past at high speed, carried by the motorcycle, and the driver pulls a property right out of your hands. Watch your bags, especially at night on dark streets.
Try to follow local customs. Look at the Thais and follow suit. Your clothing should be modest, to hide the chest and shoulders. Skirt of medium length. No short shorts. Only breeches and pants. Avoid showing jewelry and the contents of the purse. Compliance with these simple rules will help you not to become the object of crime on vacation.
Unfortunately, from Bangkok to Chiang Mai began to infiltrate some criminal scheme, there was a fraud. For example, adventures with precious stones. Dealers offer to buy them at an inflated price. In this case, such purchase is not in your plans, and stones are common forgery.
Another Scam linked to a tuk-tuk. The driver will tell you that planned to visit landmark today. Offer to visit another for the same 20 baht. Needless to say that you will never be able to know the real cost of such trips. The driver of the fraudster would call a completely unrealistic figures. These «tours» usually have nothing to do with the sights, turning into a visit to the expensive souvenir shops. In them you will offer the same «precious» stones at an inflated price.
A few words about water. Do not drink from the tap. This water often to drink is not suitable. Drink bottled. You can buy it absolutely everywhere. The ice used by restaurants, also safe. It is produced by professional companies, with appropriate degrees of filtration and purification. You can buy water in any of the city's machines for the price of 1 baht/litre.
In Chiang Mai there is a problem characteristic only for this region. It — smoke. Level smoke can be hazardous to health. Smoke appears while cleaning the rice fields. Crop residues burned on the spot. At this time the Northern region as if you are immersed in the milk. Carbon monoxide is spreading everywhere, causing thousands of cases of poisoning. Smoke is dangerous for the cardiovascular system. In 2007, because of this, killing 58 people. Therefore, when planning a visit to Thailand at this time (January — March), pre-test the level of gas.
For cleaning the rice fields of Chiang Mai residents by the thousands are leaving the city. Particularly surprising is the position of the government of Thailand in respect of this problem. With the death of dozens of people in 2007, the situation is not only not changed but worsened. The powers that be do not fix the problem, but simply declared guilty Korean restaurants, which offered grilled food! All the institutions were closed.
Now the authorities seem to have found a «solution» but suggested to humidify the air, spraying water. But needless to say that this measure was a failure? After all smoke there's a reason that the burning of rice straw. And that this problem needs to be solved, not to eliminate the consequences.
Analysis of the air in the spring of 2012 showed the presence of the particles as PM10 at a concentration of 200 µg/m3. While the permissible level of 120 µg/m3, which corresponds to Thai standards. This standard is twice as valid worldwide, the who (50 µg/m3).
In the same period, a similar problem has destroyed the ecology of the neighboring agricultural areas. There are indicators of smoke was even higher — 306 micrograms/cubic meter (Chiang Rai). So moving is not a panacea. Smoke spread from Laos to the East of Burma, covering Thailand.
Where to stay in Chiang Mai
The cost of rental housing in Chiang Mai is quite small. Prices are considered affordable even by the standards of Thailand. Tourists will be able to remove any area from cheap guest houses with minimum services to upscale hotels with stunning gardens.
Latest fashion trends — a Thai boutique resorts in neighborhoods adjacent to the historic center of the city. Some of them were built quite recently — in 2005. Such housing has a high level of service and good living conditions. The bulk of the boutique resort has 8 rooms. However, the complexes are equipped with swimming pool and exquisite finishes in a unique Thai style with antique details.
It happens that the owners of the cheapest places refuse tourists if guests do not wish to use excursions.
In the evening, Mai is pretty cool. Much cooler than Bangkok or southern Thailand in the dry season. Therefore, reserving a room, do not pay much attention to the availability of air conditioning. Nights will comfortable.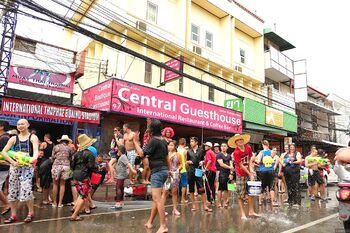 If you plan to spend in Chiang Mai for over a month, it offers studios with an area of 20-30 sq. m. Such housing will be equipped with air conditioning, a refrigerator, a TV and a private entrance. Also provides a private Parking space. Of additional services — wireless Internet. He will have to pay separately. These rooms cost an average of 4000-6000 baht per month. Utilities are a separate item of expenditure.
The place with the best price are located in the North-West of Chiang Mai. This is the area between Chang Puak road and Huay Kaew road and for a super highway. Affordable housing there and in other parts of the city. For example, in the vicinity of the University. The daily rate will be 400-600 baht. For rental housing it is necessary to pay attention to the cost of electrical energy. Srednegorodskoy price — a little more than 3 baht per 1 KW. However, the owners can ask you for 5-10 baht. Basically, 6 THB per 1kW. For those wishing to rent more expensive, but nice apartments works «Airbnb«. Hotels are all the same Booking.com.
Household stuff, to which each of us long been accustomed to, are located throughout the city. For example, laundries and washing machines. But all of them use only cold water.
Laundry 3 car with hot water is Calum road. This place is located on the way from the corner si Phum to the gates of Tapa. Opposite the Laundry service there is a cafe where you can have a glass of beer to expect the end of the wash.
Company Booking.com offers booking 2060 more hotels in Chiang Mai.
You can choose a hotel using a variety of filters: the star hotel, type of hotel (hotel, apartment, Villa, hostel, etc.), cost, location, scores of people visited the hotel, the presence of Wi-Fi and more. Go to service selection and booking accommodation in Chiang Mai.
Last booked hotels in Chiang Mai