Uglich — Russian city, located on the Volga river, 200 km North of Moscow and in 92 km to the West from Yaroslavl. Is the administrative center of the district of Uglich (Yaroslavl region). Uglich is one of the oldest cities of the Upper Volga, and in the history of Russia is a truly unique place.
The legend says that Uglich was founded in 937 year by the Kiev Prince Jan Pleskovich sent by Princess Olga to collect tribute. Archaeological excavations also confirm that in the X century, the town already existed.
About the name of the city you have multiple versions. For one, the name «Uglich» is due to the fact that the city is in the bend of the Volga river, where it turns sharply, forming corner. According to the popular version, where now stands the city in ancient times was engaged in the burning of coal. And in the third version, the name comes from the name of one of Slavic tribes — «Uglich» or just has Finno-Ugric roots.
At the end of XII — beginning of XIII centuries the city was part of the Principality of Rostov. The first Prince here was the grandson of Vsevolod the Big Nest , Vladimir Konstantinovich. And when he died, the city began to rule his sons: first Andrew, and then the novel, which was erected more than a dozen churches.
In 1293, when there was civil war children of Alexander Nevsky (Dmitri and Andrei), intervened in the situation, the Horde was ravaged North-Eastern Russia and burned 14 cities, together with Uglich. The city was rebuilt, but after 80 years it again set fire to the Prince Mikhail of Tver, who fought with the capital for supremacy.
In the XV century, the city grows stronger and even beginning to mint its own coins. Most have flourished in 1462-1491 the years when the rules Prince Andrey Bolshoy. It was at this time the Principality of great importance. Starts stone construction, it develops monumental painting and is Chronicles. But in 1491, when Andrew Large is in conflict with Moscow, he was imprisoned in the dungeon as his children. There they died.
The dramatic events continued to occur. In 1611 Uglich burned by the troops of false Dmitry II, under the command of Jan Sapieha. The city was devastated, as his already numerous monasteries. But by the second half of the XVII century the city flourishes again: developing trade and is an active construction of stone temples. However, the stone construction is interrupted for twenty years because of the ban of Peter I to stone construction, associated with the development of St. Petersburg. Work resumed in Florida in the 30-ies of the XVIII century. Then there are the first houses of stone.
After the reforms of Catherine II, Uglich became the center of the County, which is included in the Yaroslavl province. There is an active stone buildings, mainly the Volga river embankment and main streets.
In the nineteenth century Uglich becomes quiet provincial town, with several businesses, among which were burned down in 1911 Stationery factory Howard and Vargunin. During the reign of Alexander III V. Uglich appears theatrical society opens to the public library and Museum of antiquities.
The beginning of the Soviet era is due to a large disaster — fire of 1921, destroys many of the shopping malls in Kazan and assumption areas, a huge number of shops and houses. For this reason, the city again had to be repaired.
In 40-th years of XX century begins to act Uglich hydroelectric power station and after the second world war schools, scientific research Institute of watch industry, all-Union scientific research Institute of butter-making, cheese-making and machine-building enterprises. But was also demolished a significant part of the temples, demolished the monastery fence, blown Pskov monastery — the architectural harmony of the city were broken. Later restorers managed to enter into service and saved from the destruction of many buildings, partially restoring the original appearance of Uglich.
Founded:
the year 937
Size:
26.6 km
2
Population: 32 146 people (2017)
Currency: Russian ruble
Language: Russian
Of.website:</https://www.goroduglich.ru/
Flight time:
(the nearest airport in Yaroslavl, 112 km)
from Moscow — 4 hours 55 min. (1-2 change)
from St. Petersburg — 1 hour 25 min.
from Kazan, from 7 hours 45 minutes (1-2 change)
from Ekaterinburg — 8 hours 30 min (1-2 change)
from Novosibirsk — 9 hours 30 min (1-3 transplant)
The current time in Uglich:
09:57
(UTC +3)
Currently Uglich refers to the «Golden ring» of Russia and is one of the most popular Russian cities, where every year many tourists have the opportunity to get to know Russian culture and history.
How to get
How to get to Uglich from Moscow
To understand how to get to Uglich from the capital, you need to consider several options. As a rule, people used to travel by planes, trains, buses and cars. But the airport in Uglich there, and the nearest is in the city of Yaroslavl, so arrive by plane will not work. But with trains, buses and cars is a different situation.
The train from Moscow to Uglich comes only one is train number 602. He goes on Mondays, Wednesdays and Fridays from Belorussky station at 23:10. The journey time is only 6 hours.
Buses much more. There are direct and transit buses. Direct buses to three. They all depart from the Shchelkovo bus station (metro «Schelkovskaya»), but one walks only on Mondays and Fridays (departing at 07:45 hours) and the other two go there every day (departure at 14:00 and 17:00 hours). On the road you will spend 5.5 hours.
Transit buses are only five. They all depart from the metro station «Botanical garden». The situation here is this:
The first bus runs on Mondays, Tuesdays, Wednesdays and Thursdays, departure at 07:46 PM
The second bus runs daily, departing at 12 noon
The third bus runs on Fridays, Saturdays and Sundays — departure at 16:00 hours
The fourth bus runs on Mondays, Tuesdays, Wednesdays and Thursdays, departure at 20:00 hours
The fifth bus runs on Sundays — departure at 21:00
Each of these buses journey time is 3 hours and 45 minutes. Tickets for train and buses can be purchased in the ticket offices of railway and automobile stations.
And to get to Uglich from Moscow by car, you will need to go from the capital to Sergiev Posad on the highway «M-8», then turn left into the street «R-104», which will lead to the final destination. The distance between the cities is 234 km and the average speed you reach Uglich about 4 hours.
I also would like to say that from Moscow to Uglich is possible to get on another form of transport is boat. But this option is more suitable for wealthy travelers, because it is quite expensive. For example, the price of a ticket on the ship «Bulgakov» is 17 thousand rubles per person. If you do not mind, I advise you to visit the official website of the cruise company «Mosturflot» (the «River cruises«).
How to get to Uglich from St. Petersburg
Variety of ways to get to Uglich from St. Petersburg is not so great. The fact that from the Northern capital in Uglich, not trains (used to go one train, but it was cancelled) and bus service is also there, not to mention waterways. Therefore, the only viable option is to drive.
To drive from St. Petersburg to Uglich, you'll need to initially go on the road «M-10» across Great Novgorod to the town of Vyshniy Volochek in the Tver region, then turn left and go first to the VILLAGE Maksatikha, then to the town of Bezhetsk, then to the VILLAGE of Kesova Gora, and then, before reaching the city Myshkin, turn the pointer to the right and have to drive to Uglich. The distance between Saint Petersburg and Uglich is 792 km in Order to overcome it, you'll need to go over 11.5 hours.
Given such a small variety of routes that offer you to get acquainted with several options of how to get to Uglich, namely Rostov the Great, Yaroslavl, and Rybinsk.
How to get to Uglich, Rostov the Great
To get to Uglich, Rostov Great a car because bus or train between cities there. But, there is a great highway is a highway «P-153» passing through several villages, villages and settlements. Just head down this road. City are separated by only 89 km from the property and all the way you will take 1.5 to 2 hours.
How to get to Uglich of Yaroslavl
Despite the fact that in Yaroslavl Uglich no trains are able to travel between cities by bus, taxi and car.
Buses run between Yaroslavl and Uglich daily. The departures approximately every half hour from 5:55 a.m. to 19:35 PM from the bus station of Yaroslavl. In addition, the buses make a stop and railway station. The journey time is approximately 2.5 hours. Tickets are sold at ticket offices of the bus station.
Minibuses travel from Yaroslavl to Uglich from Monday to Saturday, with an interval of about 1 hour and 15 minutes, starting the motion at 6:10 a.m. and ending at 19:30 PM. On Sundays the bus recede into the 13:30, 15:30, 17:30, 18:40 and 19:30 o'clock from the bus station. The journey time will be about 2 hours. Tickets can be purchased at the box office the bus station.
To get to Uglich of Yaroslavl by car, drive along the highway towards the village a Large Village in the village Churilkovo and Sundressesth, and after a Large Village in the direction of the villages of New Pokrovskoye and Chur'yakovo. The distance of 113 km you will overcome in less than 2 hours.
How to get to Uglich from Rybinsk
It is easy to guess that in Uglich from Rybinsk are also no trains. But there are buses and taxis.
All buses plying between Rybinsk and Uglich, are transit. There are a total of six, and they all leave from the bus station Rybinsk. The schedule of their movement is as follows:
The first and second buses carry out the movement on Mondays, Tuesdays, Wednesdays and Thursdays at 01:15 and 14:15 hours
The third and fourth buses carry out the movement every day at 06:15 and 10:15 hours
The fifth bus carries traffic on Fridays and Sundays at 09:30 hours
The sixth bus carries traffic on Sundays at 15:15 hours
The travel time on each bus will be 1.5 hours.
Taxis also depart from the bus station Rybinsk daily 6:55, 8:40, 15:00 and 19:10 hours. Tickets for buses and taxis purchased at the ticket office of the bus station.
The path from Rybinsk to Uglich for motorists is simple: the city connects the highway «R-104», and you should move on it. The distance between cities a total of 74 miles, to overcome which you'll need just over an hour.
Search for travel companions
on BlaBlaCar
Transfers
in Uglich
Transport
Uglich is a very small town with a population of about 32.5 thousand people. The public transport here is not very good if compared with public transportation networks of large cities.
Buses and taxis in Uglich
Available in the city several bus routes (a total of slightly more than a dozen) and taxis is enough to get around and get to the desired destination. Here just note that the buses and taxis start moving at 6:55 a.m. and finish in an average of about 21 hours in the evening. The latest transport continues to deliver passengers to 21:30 — 22:00 hours. Fare in city passenger transport is 12 rubles.
Taxi in Uglich
As in any city, in Uglich there is a taxi. Taxi driver takes only a few taxi companies, including the leaders of the company are considered to be «Blues», «Taxi Province» and «Taxi». The average cost of a trip is approximately equal to 100 rubles. If you need to book a taxi in Uglich, call these numbers:
Blues: phone 5-75-45, 5-66-33
«Taxi»: phone 5-05-39
«Taxi State»,: phone 2-05-50
It is helpful to note that in the warm season you can rent bicycles and boats to explore the area. And for easy transportation it is best to buy a travel guide on Uglich — brochures are sold in specialized establishments selling Souvenirs and stalls for the sale of printed products.
What to see in Uglich
As you know, the city of Uglich refers to the «Golden ring» of Russia, for which reason it is regularly visited by tourist groups and independent tourists. In the city there, what to see and where to go, what to do with myself and how to spend time.
If to speak about places of a religious nature, you should visit
Nikolo-Uleyminskoy monastery (located 11 km from the city)
If we talk about the museums, their mother too much. Take the time to visit
Museum of dolls
Park Museum Rooster
Plus, a great fun you will get, having been in the house Fur — the oldest wooden residential building of the first third of the XVIII century, the Palace Supnewscan, Seminom the yard and on the rows of 1860. In short, if you are really interested in Russian life and culture, in Uglich you have a great opportunity to get to know her, so to speak, eye to eye.
And, concluding, just like to add that the visit in Uglich is every person who travels to Russia is not fun, and doing it consciously, purposefully and wisely. And remember that near Uglich is a lot more interesting Russian cities worthy of a visit. Lots of fun!
Where to go in Uglich
Places of interest in Uglich
Purchase
Uglich shopping is difficult to call an independent phenomenon, because it comes down mainly to purchases of ordinary things. But buying in local outlets can be almost anything that you may need for a comfortable life in a small town. If you need refinements, exceptionally rare or specialized products, it is best to go shopping at Yaroslavl.
In Uglich selling food and drinks, footwear, clothes, consumer electronics, household goods and agriculture, jewelry and accessories, goods for sports, goods for children, etc., etc. meanwhile, if you intend to visit Uglich, you should know that it also has its gifts. They are few, but they are quite interesting.
First and foremost, it is worth noting the traditional Uglich products are cold cuts and cheeses. They are famous far beyond the borders of Uglich, and some people come to town especially to buy them. Secondly, it is all kinds of Souvenirs from flax. Flax growing on the extensive grounds of Uglich region, and is a very popular material. Make clothes and costumes, bed linen, towels, tablecloths and a few other things.
In great demand also watch Uglich (plant «Star»). They have an interesting design and are renowned for excellent quality. In addition, an excellent souvenir for loved ones, as well as the fact that you can bring to the memory for itself, can serve as pottery, jewelry boxes, household items and interior, wooden and bronze figurines, whistles, gift soap, carved wood, lace jewelry, earrings and bags handmade, watercolor wool and, of course, has already become part of the culture of each city keyrings, plates, posters, magnets, etc.
The purchase is recommended to make in two large shopping centers Uglich — «Rostov passage» (street of Rostov, 6) and «Dobrynya» (Starostin's street, 1A). Among the other stores you mention «Dixie» (St. Rostov, 21A and Rybinskoe shosse, 22A), Medvedkovo (Rybinsk highway 20A), a «Sup» (Lenin, 1), «Fix Price» (Rybinskoe shosse, 22), «Roslan» (Yaroslavl highway, 1), «Fler-o-fler» (St. Bahareva,½), Restart (Leninskiy highway 6), Legion (St. Olga Bergholz, 11/5), The KNICKS (Yaroslavl street, 16A), «sunrise Uglich» (Svobody street, 25/27) and a number of other stores that you can find on the streets. Don't forget about the urban markets in such places you can buy not only vegetables, fruits and other products, but also to find interesting things.
Communication in Uglich
Of course, in Uglich there and fixed and mobile telephony, and Internet.
Phone code of Uglich: «48532», and to call on a landline phone, dial the following numbers: +7 (country code) — 48532 (city code) — a five-digit city number. For guests and locals have the opportunity to call from payphones, which are located in the most crowded places: at stations, in shops, post offices. Card to make calls can be purchased there as well.
Mobile telephony in Uglich represent the mobile operators «Beeline», «MTS» and «MegaFon». For calls from your mobile phone you can use your normal SIM card, but then take effect the roaming charges or buy a SIM card directly in Uglich. Sold SIM cards in post offices and offices of cell phone companies.
About the Internet information is the following: for access to the Network you can use mobile Internet provided by any mobile operator or to use the services of local providers, which are «Rostelecom» and «Artilleries». In Uglich there are a few Internet cafes. Wi-Fi does not occur very often, and to use it, you need to know the appropriate places. Below is the list of free access points Wi-Fi in Uglich:
The hotel «Voznesenskaya»: street Olga Bergholz, 5
The hotel «Volgskaya Riviera»: Uspenskaya square, 8
The hotel «Guest house»: the alley of Liberty, 1
Hotel «Moscow»: Ostrovskogo str., 7
The Uspenskaya: Uspenskaya square, 3
Restaurant complex «Russian house»: street Olga Bergholz, 9
Security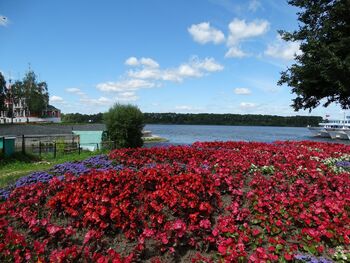 As we have said, Uglich is a very small town, where live hospitable and friendly people. Typically, tourists and travelers were welcome, and greeted them cordially. First, the tourism industry in Florida is just developing and all the newcomers — this is a good source of income. And secondly, for the life of the Uglich people just are positive.
A certain amount of crime in the city, of course, available, but almost all crimes are committed on the household soil or affect those residents who not really comply with the law. Of course, that's no reason to disable the alert and to be less attentive. To you nothing happened, and the rest was a success, just take into consideration some basic rules:
Avoid dark alleys and poorly lit areas, and walking try to make mainly day
Avoid contact with suspicious individuals
If you drink alcohol, you should know the measure
In conflict situations it is better did not participate, but if a conflict arose, then quickly retire
Documents, jewelry, valuables and large sums of money to leave in the hotel safe
If you withdraw a large amount from the card, then make sure nobody is watching you
Communicate positive and treat others kindly
Always remember that the order on the streets being watched by the police. If you need assistance, and in case of any situations that potentially threaten the life, health or property safety, do not attempt to settle the problem on their own, and will contact law enforcement.
Where to stay in Uglich
Company Booking.com offers for booking more than 30 hotels of Uglich.
You can choose a hotel using a variety of filters: the star hotel, type of hotel (hotel, apartment, Villa, hostel, etc.), cost, location, scores of people visited the hotel, the presence of Wi-Fi and more. Go to service selection and booking of accommodation in Uglich.
Last booked hotels in Uglich
photo: Olga Kvesisskaya