Singing breast: Topless music, a group of second half of XX century
Singing breast: Topless music, a group of second half of XX century
Women sing on stage Topless. I think this idea is so simple and so brilliant for a mass audience that is surprising — why no one is producing such groups on an industrial scale? But history shows that the fate of such girls bands is not always as simple as it seems at first glance.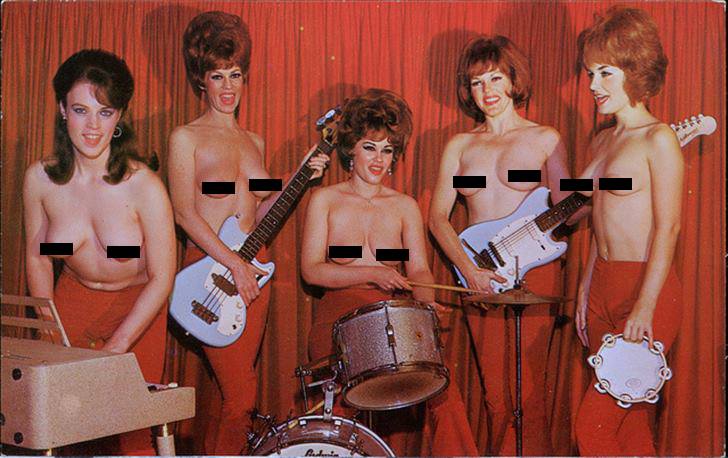 The Ladybirds (USA, 1968)
The Ladybirds («ladybugs») — female band of the 1960-ies from new Jersey. Participants were a nice, and frankly did not know how to sing and the major popularity along with incredible conviction he received for what appeared on the stages of night clubs Topless.
While the girls created their own mixed reputation as «the first and the only Topless women's group», they did not hesitate to play under a soundtrack (in the end, it is unlikely that the audience came to hear their marvellous voices). However, the strip-singers still had to learn how to sing for real after a few incidents with jammed film during the concert.
The participants themselves were in awe of their work. Guitarist of the group Marcel Mitchell compared the performances of Topless with incredible freedom. The woman worked for a textile firm, «until after I found out how great playing guitar with a naked torso». Keyboardist Debbie Diane sincerely believed that when you're in love, the whole world lives like Topless.
The Hummingbirds (USA, 60 years)
Frankly, with the «ladybugs» in the USA in the 60-ies was made by another Topless women's group, The Hummingbirds («Hummingbird»). The band was formed in the same time as The Ladybirds to replace them in the club «Tipsy» during the tour. The highlight of the group was Angela Walker, known in San Francisco for its burlesque shows. As a rule, the girl acted under the stage name Satan's angel.
The Ladybirds (Denmark, 70 years)
The Danish group joined and was produced by Pierre Beauvais (founder of The Strangers). As the first such group, the girls called themselves The Ladybirds, and very often on stage, they were announced as a «Musical show The Ladybirds». In July 1968 the group visited the Norwegian city of Bergen and 29 gave two short concert in the Star hall. After their hot performances by local newspaper Dagbladet broke the two-lane article with a detailed description not so much a concert, how many of the participants themselves group.
A few lesser-known girls band for dessert